"I got out and thought, I could be in entertainment. I could be doing a quiz show on a Tuesday afternoon."
Stacey Dooley is currently one of Britain's leading investigative journalists. Why? Her honest candor and strong empathy in every situation she is faced with allow her audience to relate to her subjects in a unique way. I was very excited to see her talk at London's Barbican Hall last week, in conversation with her interviewer Marian Keyes.
Entering the stage to a Spice Girls track, excitedly commenting 'we sold out The Barbican!', it's easy to see why the hall was so full. Stacey's grounded approach of just being herself in difficult situations is something that resonates with her audience. She has never had any formal training in the industry which helps provide a fresh perspective about many of the issues she covers.
The talk included an interview with clips from a range of her documentaries, going from the very beginning of her career, featuring in the documentary Blood, Sweat and T-shirts about the clothing production industry in India, back in 2008. This showed that from the very beginning, Stacey wasn't afraid to broach difficult issues, such as questioning why a young child had to lie about his age to work in a factory, instead of being in education.
However, something that struck me is how honest Stacey was about how frightening it is to travel and investigate war-torn countries – she emphasises that this doesn't come naturally or easy to her. In a clip of her investigating a war zone, she jumped at hearing some loud blasts. Even when assured that they were coming from her side, she still appeared afraid and aware of the risk that not only herself, but those who she was interviewing, were in.
She also discussed her recent work, investigating a mental health ward, and explained how the documentary used 'rolling consent', so those interviewed could pull themselves out of it at any time if they no longer felt comfortable. Stacey emphasised the amount of research and duty of care her and her producers put into the documentaries, which I think is evident through all the clips. Even when interviewing a member of ISIS, she is always very aware and humanises every situation.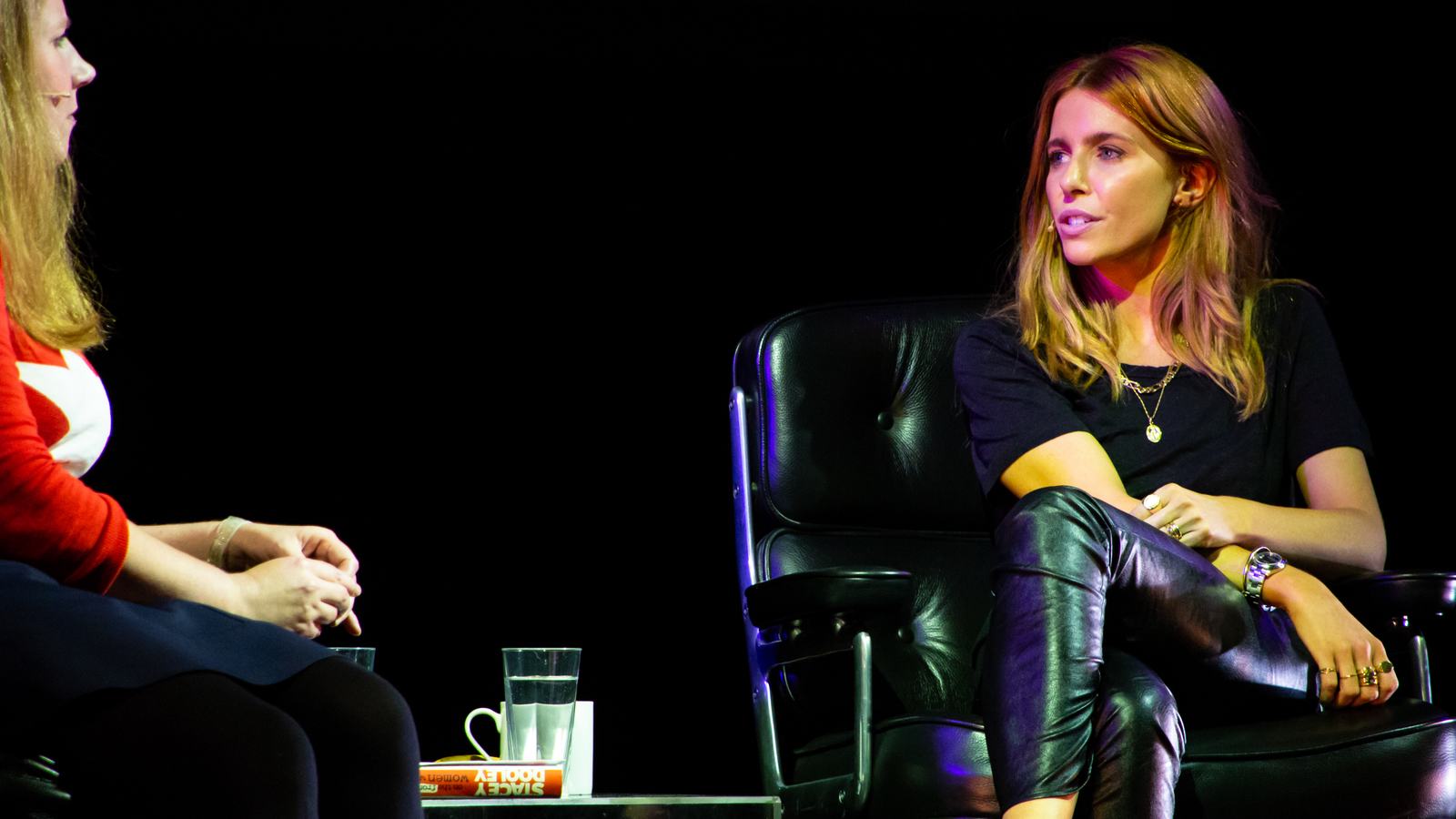 Stacey interviewed in 2019, credit to The Southbank Centre
The talk was followed by a Q&A session – during the interval, audience members were invited to submit their questions on Twitter using the #askstacey. She answered several very interesting questions – including 'what was the best part of Strictly', to which she hilariously answered 'WINNING!'. I liked that she didn't shy away from speaking about her more light-hearted work, such as Strictly and hosting the makeup artist competition Glow Up, because 'everyone needs escapism'.
There was a huge selection of questions on twitter and she probably answered about seven or eight, so I felt very lucky that I happened to be one of the chosen ones! Even if they had some trouble spotting me up in the circle, and Marian Keyes' irish accent made Stacey think I was called Errand Grace… like an actual errand – probably one of the funniest moments of my life and my new claim to fame, to be honest.
My question to Stacey was; 'would you ever consider investigating the impact of the press / media, in light of its problems today?'. Of course, she gave an incredibly insightful answer, explaining that she probably wouldn't investigate it herself, being too 'emotionally attached' to the subject. This didn't surprise me as Stacey herself has been victim to some false tabloid headlines in the past, which she has been vocal about on Twitter. She added that 'your grandad has to walk past that headline, your mum phones you in tears'. It reminded me, and I'm sure the rest of the audience, how important it is to fight the click-bait titles that rule the media of 2020.
Attending Conversations with Stacey Dooley at The Barbican was so insightful and interesting, leaving me and the rest of her audience with plenty of food for thought. Following her talk, I have purchased her book 'Stacey Dooley: On The Frontline With The Women Who Fight Back' and look forward to reading it – I hope to share my thoughts on it with you all soon! To find out more, many of her documentary series are available to view on BBC iPlayer, with clips also on YouTube.


EG x